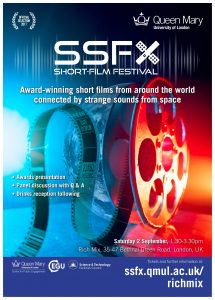 On Saturday 2 September 1:30-3:30pm, the SSFX Short-Film Festival will feature award-winning short films from around the world connected by strange sounds from space.
Get your tickets now. Booking is required.
About the Festival
Alien may have told you "In space no one can hear you scream" but it was wrong!
The SSFX Short-Film Festival has challenged independent filmmakers from around the world to create short-films incorporating a series of strange sounds from space recorded by satellites. The results are a collection of films, spanning a wide array of topics and genres, connected only by these sounds.
The festival will showcase these highly creative works, and will hear from the filmmakers involved and festival judges in panel discussions featuring audience Q&A. Awards will be presented to the best films and a drinks reception will follow.
Films
'Astroturf' James Uren & Nidhi Gupta (UK)
A meticulous young man tends to his fake garden to the sounds of deep space.
'Dark Matter(s)' Jesseca Ynes Simmons (USA)
This experimental and meditative imagining attempts to capture the activities of a fish tank in a way that takes the inhabitants out of their enclosed world, to a place unknown, to feel both their death and their life.
'Murmurs of a Macrocosm' Adam Azmy (UK)
A journey through a microscopic world. We are led via the descriptive recordings of those who travelled it.
'Names and Numbers' Simon Rattigan (UK)
Space sounds and Morse code. How to get from A to B and from 1 to 3? This is a sound and voice collage shaped by the sounds of space and Morse code, addressing the external, physical and material experiences of sound and movement contrasted with interior reflections, explored through language, inner voices and symbols.
'Noise' Ali Jennings (UK)
A secretive woman opens herself up to her unruly housemate, after they are stuck together in her room. This film was created for the Queen Mary's space sounds competition and features the sounds recorded in space within the film. Although they are not the direct subject of the film they are key to the characters' interactions.
'Saturation' Victor Galvão (Brazil)
There's no answer when time is the question. 'Saturation' is sci-fi story about unknown phenomena that made all organic processes to be as fast as to make life impossible. The film combines images taken from 35mm slides found in a medical archive with a soundtrack made from space sound recordings.
'The Rebound Effect' Aaron Howell (UK)
'The Rebound Effect' brings together contemporary movement and digital media to capture dance in a way which pushes past the tangible dimensions of live performance. The illusion created directs the viewer to move with the dancer whilst shifting the sense of space, direction and bounds.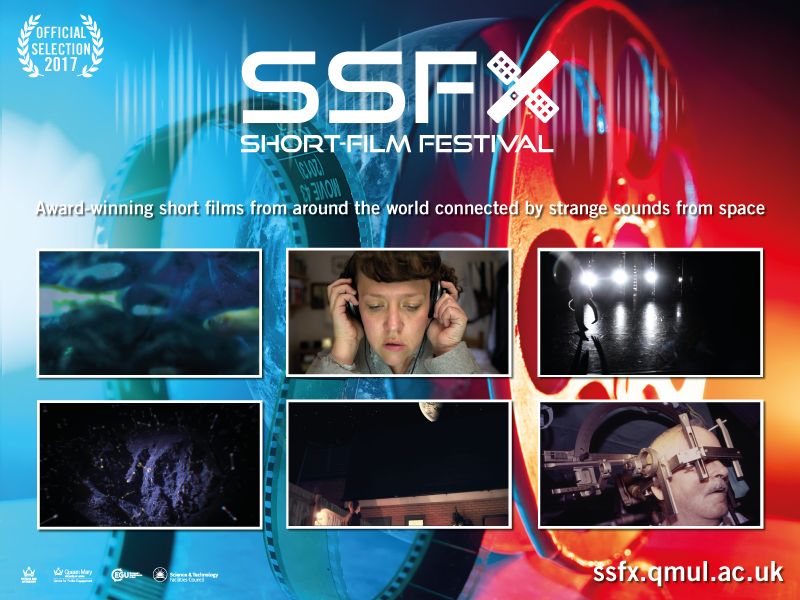 Venue
The SSFX Short-Film Festival is being hosted at Rich Mix, East London's independent arts centre, in "Screen 1" (a beautifully-designed boutique cinema) with a drinks reception following in the Indigo Café and Lower Café Gallery.
Rich Mix, 35-47 Bethnal Green Road, London, UK
The nearest stations are Shoreditch High Street (London Overground), Old Street, and Liverpool Street.